On the 16th December 2021 the law around towing trailers changed. In a bid to tackle the HGV driver shortage, the Government scrapped the car and trailer towing test, allowing licence holders to tow by default.
Almost a year on since the law changed, there still remains a lot of confusion around the new law. Individuals and commercial drivers often ask us 'Can I tow a trailer'? To help you out, we're answering some of the commonly asked questions around trailer handling and towing. Plus, we've asked our very own specialist driving instructors to provide their top tips around towing trailers.
Your Questions Answered
Can I Tow A Trailer?
Yes! All licence holders can now tow a trailer, horse box or caravan without taking an additional test. However, there are different rules based on when you obtained your driver's licence.
Before 1 January 1997
You're allowed to drive a vehicle and trailer with a combined weight of up to 8250kg Maximum Authorised Mass (MAM)
After 1 January 1997
You're allowed to tow a trailer that weighs up to 3,500kg MAM.
From the 16 December 2021 the DVLA will automatically update driving licences to show that you're allowed to tow trailers. Category BE will be added licence
What is Maximum Authorised Mass (MAM)?
The maximum authorised mass (MAM) refers to the weight of a vehicle or trailer including the maximum load that can be carried safely when used on the road. This can also be referred to as Gross Vehicle Weight (GVW).
You can find this in your vehicle's owner manual.
To calculate your MAM simply combine the vehicle weight with the trailer weight, including the maximum load (details in owners manuals). For more details about vehicle weight visit the gov.uk website.
What restrictions apply for towing a trailer on a motorway?
Anyone with a licence is permitted to tow a trailer on UK roads, including motorways. Since the change in the law driver licence holders can do this without a prior test. But do check the weight restrictions, as these are different depending on when you obtained your licence.
On motorways the national speed limit is 70mph. However, when towing a trailer or caravan this is reduced to 60mph to increase safety and stability. Similarly on dual-carriageways you'll need to stick to 60mph.
Can I tow a horse trailer?
Yes! Towing a horse trailer or horse box is now permitted without taking a test. Again do check the weight limits as these vary depending on when you passed your test and may therefore restrict the size of your box or trailer.
When carrying livestock it's even more important to get adequate training, especially when transporting heavy and easily spooked animals like horses.
At Beyond Driving we provide off road trailer training to many people in agriculture, forestry, farming and equestrian owners. Our courses are specifically developed to each individual and delivered on their own premises (where possible), so that drivers gain valuable exposure to manoeuvring vehicles across their own terrain using their own vehicles and equipment. Where this is not possible, we offer training at one of our dedicated off-road locations across the country.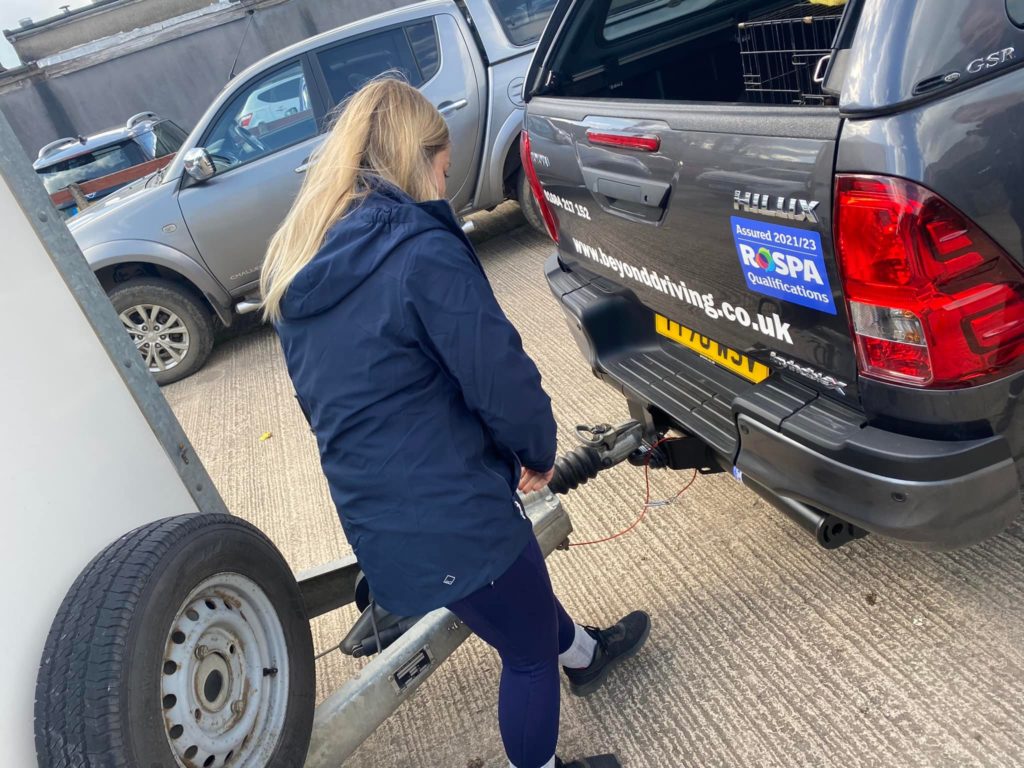 Do I need training to tow a trailer?
Training to tow a trailer is not a legal requirement. However, the DVSA recommend obtaining training from a specialist driving instructor.
Although there is a lot of information about how to safely tow a trailer, there is nothing like hands-on practise. For on-road towing, a training course like ours will give drivers extensive skills and awareness of driving in built up areas. We also take drivers through essential training on building awareness, driving in heavy traffic, small rural lanes and how to safely couple and uncouple trailers.
For towing trailers off-road, we'd say that training is a must. On rough or uneven terrain trailers can easily topple over causing serious injury. Our off road trailer training therefore focuses on the risks presented by heavier trailers using different vehicle and trailer combinations.
Can anyone do a Trailer Course?
Absolutely! Infact both Beyond Driving and the DVSA recommend completing a trailer handling course before your tow for the first time. Employers may also want to carry out regular training for employees who use trailers to fulfil Health and Safety policies. Remember also that PUWER – The provision and Use of Work Equipment and Regulations – also insist that adequate instruction and training is given to employees.
How much does a trailer course cost?
Trailer towing courses vary in price and depend on a number of factors. 
1. Qualified instructors: Courses ran by specialist instructors will have a vast amount of knowledge and experience. They may specialise in towing and trailers. 
2. Weight limits: If you want to tow commercial equipment or trailers then you may need HGV training. Or you might be looking for off road trailer training which covers towing farming equipment, or combines winch training or towing a trailer carrying a ATV. Take a look at the specific training we offer for farming and forestry.
3. Requirements: If there are specific scenarios you want to experience then again you may want to find a training provider that can tailor courses to your needs. Here at Beyond Driving, all of our training is developed with the client in mind covering real-life scenarios that you may encounter.
4. Qualifications: Many employees require training that is accredited by one of the main driving accreditation bodies. For example all of our courses are uniquely assured by RoSPA, the oldest body working across occupational health, specialising in the prevention of accidents. This means that our courses meet extrinsic criteria for teaching and delivery.  
Top Tips for Responsible Towing
If for whatever reason you're unable to get professional driver training then here are our main tips for towing a trailer, by our expert driving instructors.
1. Safety First
Basic safety checks should be carried out every time you tow. And before you set off.
– Make sure your trailer is correctly coupled to the towbar or pin. Once the trailer is lowered down and clicked into place, raise the trailer back up to ensure it's fully locked in
– Always ensure that the breakaway cable is attached and secure
– Check that the electrical cable isn't damaged and plug it in
– Raise the jockey wheel and ensure it is locked away so that it doesn' fall back down
– Ensure the trailer's handbrake is released before moving off
– Check that indicator and breaking lights are working correctly
– Check all tires on the trailer and vehicle. Do they have the legal amount of tread? Do they have enough air pressure?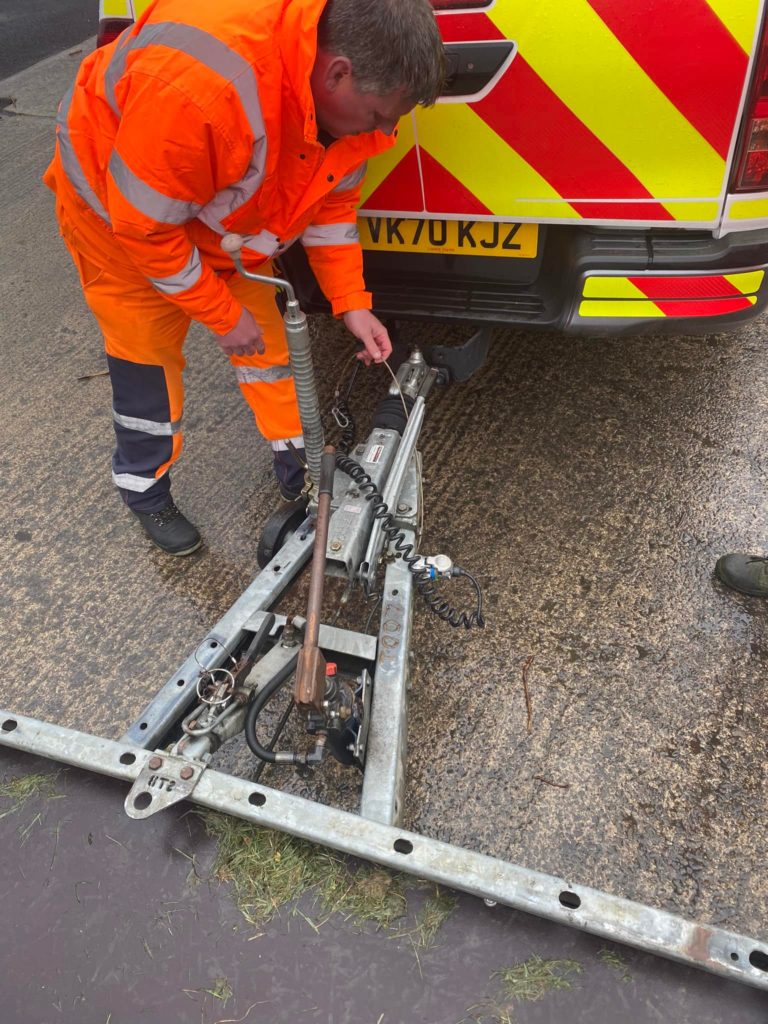 2. Secure your load
Whatever you're towing you'll want to make sure that the towing weight is distributed evenly. Uneven loads that are heavily can easily drag the towing vehicle and make going round corners very interesting. Load the majority of the weight over the trailer axle as this will give it more stability. When you drive the vehicle steering shouldn't feel lighter than usual and the trailer shouldn't sway across the road. If you notice either of these teo things happening then check that the trailer is coupled at the correct height and that loads are evenly loaded across the trailer.
Similarly if your load is not properly secure and can easily move around this can have the ability to pull the towing vehicle. Secure EVERYTHING with adequate straps, netting or tarpaulin for open trailers. If towing a caravan, make sure all of your passengers sit in the vehicle and not in the caravan. Caravans are especially lightweight so having people in the caravan whilst driving can make a big difference to handling. The risk of injury is also very high.
3. Invest in some towing mirrors
You'll need to be able to have an adequate view of the road behind behind and be able to see the end of your trailer. This is particularly important if you have a large enclosed trailer, like a horse box. You can be fined up to £1000 and get 3 penalty points for towing without proper mirrors.
4. Never Hurry
Now this is a rule that we tell all of our drivers! But it's especially important when you're towing a trailer. Make sure you allow enough time and space around you at all times to ensure that your journey with your trailer is as smooth as possible.
5. Practice cornering
Remember, when you're towing your vehicle is a lot longer than normal. This means that when taking corners your trailer has the potential to clip other cars and vehicles. Take every corner nice and wide to prevent this from happening. Also pay attention to where your trailer's wheels are when corning, make sure your load isn't sliding around and lifting your wheels off the floor.
6. Braking
With all that extra weight, braking will be harder. This means it'll take your vehicle longer to stop. Always leave plenty of distance between you and the car in front of you. Some off road vehicles will have an integrated trailer braking system so make sure you know exactly how to operate these before you set off. You may want to test this on an empty road or during our off road trailer handling course with trained professionals. Our courses cover knowing how to set trailer breaking gauges dependent on the weight that you're carrying.
7. Always check your set up
We recommend stopping intermittently on your journey to do another walk around. Check your tires again, that your load hasn't shifted, and the coupling is in place.
8. Practise Reversing
Reversing a trailer or parking a caravan can be tricky, but it's not impossible. First, survey your surroundings by getting out of your vehicle. Make a note of obstacles or take a mental picture of exactly where you need to park.
Before you begin manoeuvring your trailer ensure that your trailer is in line with your vehicle and all wheels are straight. Ensure you have a nice, clear view of your trailer through your window and mirrors and always get help from an assistant where possible.
Remember that your trailer will always go in the opposite direction to where you turn the wheel. Turning right will make your trailer turn left and visa versa. Don't over-turn. Once you've turned your trailer enough (pointing it to where you want to go), straighten your wheels to keep the trailer going in the direction you need it to go.
Can you tow your trailer?
We started this guide saying 'can I tow a trailer?' is a question we get asked a lot! Recent changes to the law in the UK mean that everyone can now tow a trailer without taking a test. But remember that weight limits will vary depending on when you passed your test.
We've also answered some of the other most commonly asked questions around trailer towing in the hope that you'll find everything you need to get started. Remember though, that although you no longer need to take an additional test, the DVSA still recommends getting adequate training. A course that will take you through the important safety and vehicle checks, braking, cornering and manoeuvring will ensure your safety and safety of other road users.
At Beyond Driving we offer both off road trailer training and on road training which can be tailored and combined with other courses. Contact us today about your trailer training requirements!